article taken from smart travel asia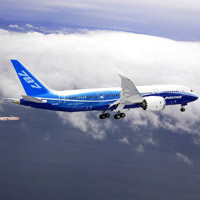 It's up: 787 test flight December 2009
ONE IS BIG AND FAT with all the polish of a portly dowager. Critics describe her as a "dinosaur". The other is sleek, pretty, and quick, and capable of long outings, but derided as incontrovertibly "plastic". Who would you pick for a snog or, in this case, a transpacific flight? With the much-delayed rollout of the Airbus A380 behemoth, the gloves have come off as Boeing prepares for the arrival of its very own, equally delayed, B787 Dreamliner.
What's the fuss? Airbus has opted for a super size aeroplane that will render the stalwart B747 all but obsolete, transporting a vast scrum of bodies in one neat package. While offering 49 percent more room than a Boeing 747, the Airbus 380's operating costs are cited at around 15 to 20 percent lower per seat. Add to this claims of fewer emissions, less noise, and a seat capacity stretching from the median 555 to a staggering 800 (double the heaving bottoms on a B747), and it's small wonder airline accountants are beaming. Airbus claims its plane is more fuel efficient than a car. This shall be put to the test as fuel prices remain irksomely unpredictable, having crossed a wallet-thumping US$140 per barrel in the not too distant past.
The real test of the pudding is in the flying. As travel declines with fears of swine flu and a volatile global economy, airlines are rethinking their aircraft orders. THAI Airways canned its ultra-longhaul A340-500 Bangkok-New York JFK service in July 2008 citing soaring fuel costs that rendered both the route and the aircraft, uneconomical. In June 2009 the airline announced it wished to cancel an order for six A-380s. It later pressed for a delayed delivery after Airbus took umbrage.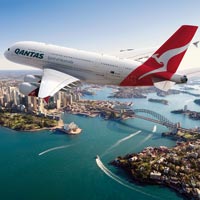 Qantas A380 over Sydney
Indeed, a depressed travel market could favour the B787, which has the edge on fast-turnaround routes and a handy, manageable size that will not resound with emptiness as pin-stripers switch to video conferencing and leisure travellers turn to TV. This, despite repeated delays and a late 2010 delivery to B-787 launch customer All Nippon Airways (ANA). On 15 December, 2009, the B787 gracefully took to the skies on its maiden test flight, cut short by rain. With around US$10 billion spent on its development by Boeing, this composite material ultra-light fuel-efficient aircraft hopes to revolutionise point-to-point services. Boeing says the aircraft will reduce fuel consumption by 20 percent and operating costs as a result by 15 percent. Small is now beautiful. Contemplating a mammoth 150 wide-body aircraft replacement, United Airlines has shied away from the B747 and the A380 to explore smaller twin-engine aircraft announcing, on 8 December, 2009, its intention to purchase 25 Boeing 787 Dreamliner planes and a further 25 A350 XWB aircraft. UA has an option on a further 50 airplanes from each manufacturer.
Airbus dawdled long months on the assembly line. The dinosaur was late. Very late. Singapore Airlines, the launch customer received its first Airbus A380 in October 2007, a full year behind schedule leading to question marks regarding customer loyalty, final orders, and price reductions as compensation. (SIA's inaugural flight was globally auctioned for various charities and its first commercial route was Singapore-Sydney. Flights to Hong Kong commenced July 2009, adding to long-haul points, London, Tokyo and Paris.) The behemoth is in the air.
A depressed travel market could favour the B787, which has the edge on fast turnaround routes and a manageable size...
The SIA A380 carries just 471 passengers (not the sweaty 800 of journalistic scuttlebutt). In addition to 12 partitioned suites in a grade beyond first class – where a double bed can be created for passengers travelling together who might thus fully enjoy the feel of Givenchy linen aloft – the 60 business class seats on the upper deck recline fully flat and offer USB ports, in-seat power for a laptop and a 39cm (15.4-inch) LCD video screen. The seat width is 86cm or 34 inches with a forward-facing configuration of 1-2-1 permitting aisle access from every seat. SIA wants 25 planes. The first Emirates A380 arrived in late July 2008 and orders for a full complement of 58 superjumbo aircraft by 2013 are in the pipeline.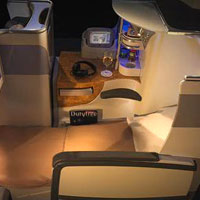 Emirates A380 business class
Farther back in the delivery queue, Qantas is harder hit. The Australian national carrier finally received its first aircraft late September 2008, two years off the original delivery date. The Australian national carrier later said it would delay orders for its A380 aircraft. Virgin has announced holding back its purchase of six A380s for four years until 2013, FedEx cancelled its order of 10 Airbus A380 aircraft, opting instead for the Boeing 777 freighter version, and UPS has placed its order on hold. Kingfisher from India has deferred delivery of five A380s. Yet Airbus has clung on gamely. At the July 2008 Farnborough Air Show, Etihad weighed in with a 55 aircraft order with Airbus including 10 new A380 planes.
On the other side of the Atlantic, the Boeing 787 Dreamliner has had a fast take-off with sales. By June 2007 it secured a tentative order for 50 aircraft from an aircraft leasing company. In October 2007 British Airways announced one of its biggest fleet orders in a decade with a mixed purchase of 12 Airbus A380 aircraft and 24 Boeing 787 Dreamliners. Said the BA Chief Executive Willie Walsh: "These aircraft set the gold standard when it comes to environmental performance." Yet, by July 2009, an embattled BA, coping with a travel slump, had announced it would hold back delivery of 12 Airbus A380s. By end 2009, the B787 had over 840 orders on the books.
Does physical size matter? The new, and larger, Airbus wing design ensures future versions of the aircraft can handle a total weight of up to 750 tons. This means the US$280m A380 will achieve optimum cost-efficiency carrying closer to 800 passengers. That's a lot of beers and queues for the toilets – on two floors. Not perhaps what passengers want to hear. Of course, most airlines will opt for a more sensible seating configuration. Singapore Airlines offers 471 seats and a standard configuration is 555 seats. Assembly is a major production, one dogged by technical glitches, including engineering delays as the aircraft carries hundreds of kilometres of wire that have to be painstakingly fed through various parts of the frame.
The A380 coliseum has failed to materialise, disappointing those who would love to toss all airline chefs to the lions...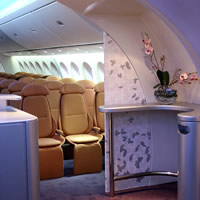 Boeing 787 Interiors: Modern archways
It is a beast of a carrier. Airports everywhere are quailing at the prospect. Heathrow's Terminal Three has undergone expensive redesign to accommodate the Airbus A380 and Emirates has introduced oversized ground equipment in Dubai at its dedicated new Terminal 3, which offers five aerobridges to suck out passengers from the Super Jumbo Airbus A380. The new aircraft is a space guzzler. It needs more runway to clear the ground, more taxiway for the sweep of its enormous 79m wingspan, and boarding gates need re-jigging to deal with the logistics of deplaning a swarm of passengers from a towering double-decker.
Boeing believes large capacity aircraft flying to big, overcrowded, dispersal "hubs" are passé. Travellers want speed, frequency, and direct connections. The B787 Dreamliner (formerly the B7E7) is the result of Boeing's new preoccupation. The aircraft is swift and fuel efficient, with a cruising speed of Mach 0.85. It is smaller and can access regional airports without fuss. It also has a range that can extend to 16,000km carrying about 280 passengers. The good news for passengers is the B-787 is pressurised for a lower altitude and with higher cabin humidity, which means you will not arrive at the other end looking and feeling like a desiccated peanut.
Fast the aircraft may be but assembly has proved a headache. After three announcements on production delays, Boeing announced in early April 2008 that the plane would not be certified and delivered until late 2009 to its first customer, ANA (with 50 aircraft booked). Test flights are now scheduled for late 2009 with actual delivery to ANA later in 2010. In September 2008 Boeing machinists went on strike. The B787 delivery delays have left customers and Boeing red-faced as Air India, Jet Airways, Air New Zealand, Japan Airlines, and ANA consider compensation. Qantas (65 planes booked in the first batch) is seeking financial redress and in June 2009 cancelled an order for 15 B787s with deferred options on a further 15. The short-range B787-3 is the worst affected and will turn up last, furthering the woes of main customer All Nippon Airways. Taking advantage of the melee, China Southern in April 2009 announced it wanted to delay delivery of 13 of its B787 Dreamliner aircraft. However, once airborne, all this could change in the face of compelling economics.
The B787 has opted for a sweeping archways design and light diodes in the ceiling that mimic the changing sky colours
Qantas first class on A380
As Boeing might ask, do you need to fly a football field halfway across the world? Many airlines believe so. Some will put in gyms, bars, casinos, shops, offices and even play areas – but not for the Mile High Club, whose members will have to fend for themselves in vast open spaces. The coliseum has failed to materialise, disappointing those who would love to toss all airline chefs to the lions, Christian or not. And while a lot of seats can be crammed into an A380, not all airlines plan to do so.
The Boeing 787 cabin will offer a visually relaxing "sweeping archways" design, window shades whose opacity can be altered at the flick of a button, greater humidification of cabin air, and a sky simulation effect through the use of colour changing light-emitting diodes in the aircraft ceiling. Aisles will be wider as will the seats. As with the bigger A380, the B787 is a very quiet aircraft rated to produce just about a quarter of the noise of a B747.
It is somewhat ironic that Boeing could have launched the very first double-decker aircraft over three decades ago. Pressed by visionary Pan Am founder Juan Trippe for large double decker aircraft, Boeing responded by designing the widebody B747, arguing that a two-storey aircraft would be plagued by far too many limitations.
Today it is more than likely that there is a market for both products, big and small. But the transatlantic diatribe continues to escalate. Boeing asserts Airbus has competed, unfairly, through backdoor European subsidies. Yet, Boeing itself has been a major beneficiary of state and federal aid with Washington State bending over backwards to ensure the B-787 plant stays with them. Much of Boeing's aircraft design has been a spin-off from US military-sponsored research.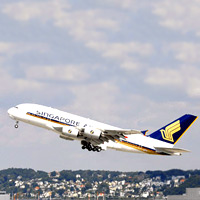 Singapore Airlines A380 double-decker
Meanwhile, rival Airbus keenly aware that Boeing may be onto something, is also working on a smaller, more fuel-efficient A350 to compete head-to-head with the B787. Customers queuing up for the A350 include Virgin, Kingfisher, Vietnam Airlines, and feisty AirAsia(which announced a staggering US$2.4 billion order for ten A350 planes, the XWB version, at the 2009 Paris Air Show).
The A350 remains mired in a major redesign debate after several potential buyers felt it compared poorly with the B787. As a consequence, the A-350 roll-out will also be delayed, giving Boeing a certain headstart in the mid-size market. The new Airbus A350 will eventually weigh in with a wider fuselage and expanded wing size. The A350 XWB (or extra wide body) as it will be termed, will extend the flight range to around 8,500 nautical miles. It will roll out in three versions, the A350-800, the A350-900 and the A350-1000, that will seat from 270 to 375 passengers. Airbus says this will be one of the "quietest" aircraft, with low emissions and 30 percent more fuel efficiency.
By 1949, Boeing 377 Stratocruisers were plying the North Atlantic with opulent living rooms for first class
Now as the China dragon awakes, a new competitor plans to streak across the horizon, bidding for a share of the small jet market for the expected regional travel explosion. The Chinese made ARJ21 (literally, the Advanced Regional Jet for the 21st Century) is taking shape in the Shanghai ACAC plant with a dash of Boeing factory knowhow, huge dollops of government subsidies and, more recently, a Bombardier stake.
The small ARJ21 will carry between 90 to 105 passengers serving regional airports in China and beyond. It will be particularly well adapted for short or high-altitude runways that require extra power or a sharp rate of climb. The ARJ21 is expected to take to gain CAAC certification in late 2009. In China alone domestic airlines are expected to purchase almost 3,500 new aircraft by 2025.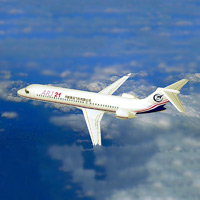 ARJ21: small plane big ambitions
Bombardier's 130-seat Bombardier C130 with a range of 1,800 nautical miles, crosses swords with various small jets by Embraer.
Was big always beautiful? The prodigious and spectacularly ill-starred 12-engine Dornier Do-X was the world's biggest aircraft in 1929, its hull accommodating a full three floors. The Wall Street crash ended its career despite a problem-plagued round-the-world PR stunt that took ten months to accomplish, achieving little in the end. By 1949, double-decker Boeing 377 Stratocruisers were plying the North Atlantic with opulent digs, and even living rooms, for first class passengers. No flat seat hype then. The B377 used real beds. And there was the memorable Howard Hughes "Spruce Goose" (H4 Hercules) that took to the skies, briefly, in 1947. This extraordinary flying boat arrived too late to aid in the war effort – its prime purpose – and was relegated to museum attraction.
Barring the hugely successful B747, aviation history has not been kind to passenger aircraft behemoths. Now, once again, we shall have to wait and see.